Missionary – Ian Knox
Mr Ian Knox paid the school a visit to talk about the work he does in Africa.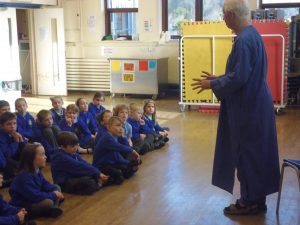 He addressed the children during assembly to inspire them with his many stories from the places he has visited: Niger, Kenya, Tanzania, Rwanda, Uganda and Burkina Faso.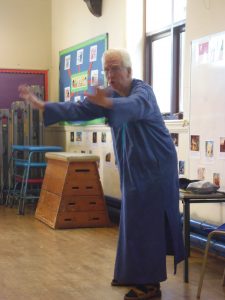 Missionary work has been Ian's life commitment which he has thoroughly enjoyed, his enthusiasm was infectious.  He set the children a challenge of raising money to help buy 2 lots of toilets (boys and girls), to twin with our own toilets in school.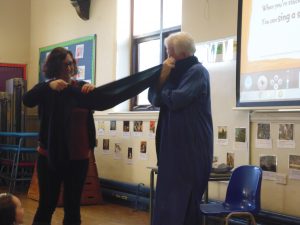 Mrs Daw helped Ian to put on the rest of his dress, to show the children how they survive through sand storms in Africa.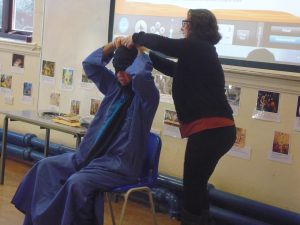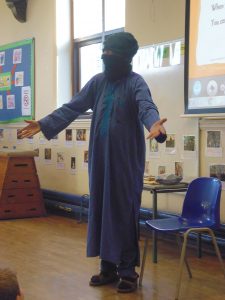 Ta da! Simple but effective.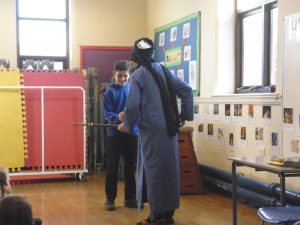 Mr Knox is showing Hayden a gift he received from the Sultan of Niger – a sword!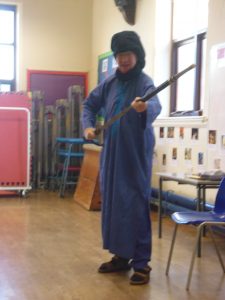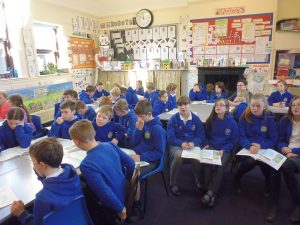 He then came into the Bitterns class to talk to KS2 more in-depth about his missionary journey throughout Africa.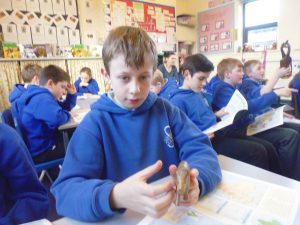 Here, Will is feeling the smoothness of the animal which was carved from one piece of wood.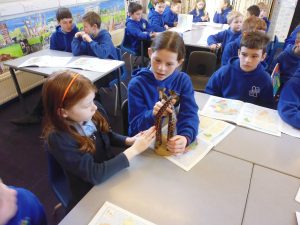 The children were all intrigued to inspect and appreciate the fine art made by the people of these poor villages.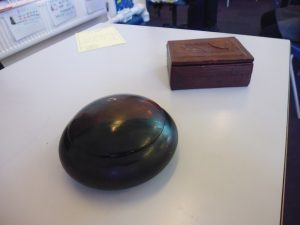 This bowl and lid was carved out from one piece of stone.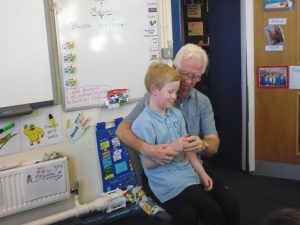 Mr Knox had a wonderful story to tell the class; it was about a boy who approached him and sat on his knee during a sermon. Here, Ian is recreating the event with John.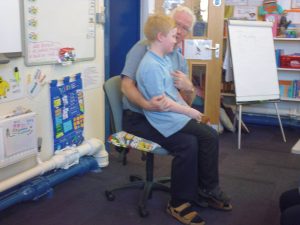 These children are so poor that they have no toys, nothing to play with. How do they entertain themselves?  Sitting upon Ian's knee, this boy decided to play a game. He reached into his pocket and pulled out nothing, gave it to Ian who in turn put it in his pocket and then looked at each other. Mr Knox then pulled out the nothing from his pocket and handed it back to the boy who in turn put it back in his pocket, this went on for a whole 30 minutes until the boy left with a happy grin on his face, and Mr Knox? He was satisfied to prove that you don't always need material things to interact and play with, with someone else.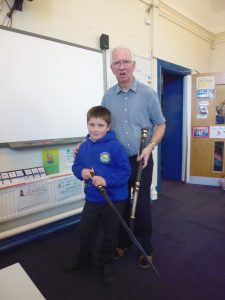 Ollie was so impressed with the sword that he wanted a keepsake photo.
What an excellent morning!
One response to "Missionary – Ian Knox"